Andrei Orlov, my doctoral advisor in the Department of Theology at Marquette University, has produced two new titles of note for anyone interested in early Jewish apocalypticism and mysticism. Orlov's exploration and analysis of esoteric traditions reflected in the Jewish pseudepigrapha is always creative, insightful, and opens up new windows of investigation into not only the apocalyptic Jewish roots of early Christian mysticism, but the development of Jewish mysticism in its own right. These two most recent studies are representative of both of these trajectories and will be enjoyed by all who study early Judaism and Christianity and share interests regarding traditions of heavenly figures and divine mediators. Check out their description below and be sure to click on the book covers for links to the publishers websites.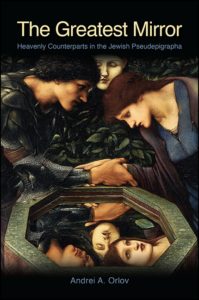 Andrei A. Orlov, The Greatest Mirror: Heavenly Counterparts in the Jewish Pseudepigrapha (Albany: SUNY Press, 2017) ISBN 978-1-4384-6691-0.
The idea of a heavenly double—an angelic twin of an earthbound human—can be found in Christian, Manichaean, Islamic, and Kabbalistic traditions. Scholars have long traced the lineage of these ideas to Greco-Roman and Iranian sources. In The Greatest Mirror, Andrei A. Orlov shows that heavenly twin imagery drew in large part from early Jewish writings. The Jewish pseudepigrapha—books from the Second Temple period that were attributed to biblical figures but excluded from the Hebrew Bible—contain accounts of heavenly twins in the form of spirits, images, faces, children, mirrors, and angels of the Presence. Orlov provides a comprehensive analysis of these traditions in their full historical and interpretive complexity. He focuses on heavenly alter egos of Enoch, Moses, Jacob, Joseph, and Aseneth in often neglected books, including Animal Apocalypse, Book of the Watchers, 2 Enoch, Ladder of Jacob, and Joseph and Aseneth, some of which are preserved solely in the Slavonic language.
and…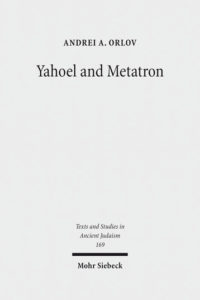 Andrei A. Orlov, Yahoel and Metatron: Aural Apocalypticism and the Origins of Early Jewish Mysticism (TSAJ, 169; Tuebingen: Mohr Siebeck, 2017) ISBN 978-3-16-155448-3
In this work, Andrei A. Orlov examines Jewish apocalyptic traditions about the angel Yahoel, tracing their conceptual impact on the development of later rabbinic and Hekhalot beliefs concerning the supreme angel Metatron. The author argues that the figure Yahoel, who became associated in Jewish apocalypticism with the distinctive aural ideology of the divine Name, provides an important conceptual key not only for elucidating the evolution of the Metatron tradition, but also for understanding the origins of the distinctive aural ideology prominent in early Jewish mystical accounts. Andrei A. Orlov suggests that the aural mold of Jewish apocalypticism exercised a decisive and formative influence on the development of early Jewish mysticism.
Tolle lege!